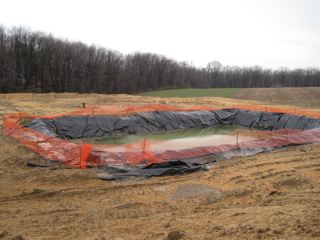 DCNR has received a request to drill a Marcellus gas well within Yellow Creek State Park.
MDS Energy began drilling a Marcellus gas well within the Yellow Creek Conversation Zone; it is now seeking a zoning exception from the county, in order to be able to legally continue this drilling.
The well site located on private property,  approximately 1500 feet from the shore of the lake, and within 1/2 mile of both Boy Scout Camp Seph Mack and the DCNR cabins.   Many years ago, Indiana County established a buffer zone around the state park, thus the need for an exception before MDS could drill in this area.