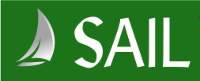 Generous donors have helped Friends of Yellow Creek embark on a new phase in the promotion of sailing at the park. We now have two Escape Captiva sailboats that members who participate in Community Sailing can access.  Do you remember the good old days of the Sailing Base? Well, FOYC is helping to bring back that facility AND we're gathering a small fleet of boats for community use.
The Escape Captiva is an ideal small dingy for one or two sailors.  Beginners will appreciate its easy righting power (yes, everyone capsizes from time to time.) And more experienced sailors will take advantage of the unique roller furling main sail to challenge themselves with high winds in the Fall!
Friends of Yellow Creek thanks Joe Charny and the Moraine Sailing Club (of Lake Arthur) for these donations.  Contact friendsofyellowcreek@gmail.com for more information on Yellow Creek sailing.