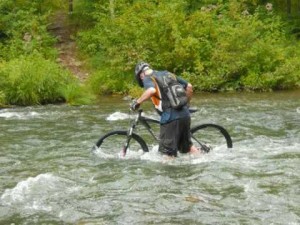 The  annual Yellow Creek Trail Day is coming up!  We're especially asking for you assistance on this one as we'll need help carrying in supplies for a bridge.  Doug Crytzer of 
American Adventure Sports
 is constructing this bridge at a stream crossing on the south shore.  This is the twenty foot span that you currently have to ride through.  Doug began work on the bridge last fall, but there is still more to be done.  He has asked that we bring cordless drills to help with that project.  He has also requested we bring shovels and picks/mattocks.  Depending on the number of people we have, we'll also spread out for general maintenance tasks to get the trails tip-top for this riding season.
We'll meet through the Day Use Entrance in the first parking area on the right at 
10:00 a.m.
  From there, we'll move closer to the bridge location to aid in carrying the materials.