IUP Sailing Club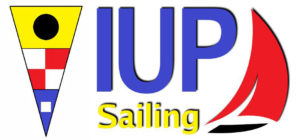 The IUP Sailing Club was founded in 2011 and acquired its JY 15 sailboats in summer of 2012.  The club's mission is :
to involve the IUP community in recreational sailing;
to allow beginners to master basic skills leading to US Sailing certification;
and to provide experienced sailors the opportunity to develop racing tactics and compete in collegiate regattas.
With the cooperation of then park manager Ken Bisbee, the club initially launched from the south shore boat rental area. As IUP Sailing and the Friends of Yellow Creek began to draw more sailors back to the lake, it was possible to move over to the old north-shore sailing base which had been abandoned for a decade or more.
In the years since, IUP students have assisted FOYC in making improvements to the base grounds and buildings.  In addition, they have provided support for Septemberfest, Get Outdoors PA, and other sailing outreach programs.
Current park manager James Tweardy has also been a strong supporter, working with the club and FOYC to improve the shoreline slope, clear scrub, replace the rack roof, and more.
A developing tradition — each Fall IUP sailing invites college sailors from schools in the region (Pitt, Gannon, Erie Behrend) to attend a "Messabout."  The informal regatta and BBQ is one of the highlights of the season.  Park visitors can enjoy the site of a fleet of sailboats, expertly sailed.
All members of the public are welcome to join Community Sailing at Yellow Creek.
Current IUP students and alumni, as well as IUP employees, are eligible to participate in the IUP sailing club.  Visit the IUP Sailing Club Website for more information.